Energy
Advancements in Offshore Connectivity
Introduction
One of the most important technological advancements for the petroleum industry has been in offshore connectivity enhancements. Internet of Things (IoT) technologies, including sensing, communications, and analytics capabilities, have been increasingly entering the market. They also include DARQ technologies, where DARQ is defined as distributed ledger technology/blockchain; artificial intelligence; extended reality; and quantum computing. Their importance in the oil and gas industry is emphasised by reports that "80% of downstream companies and 76% of upstream companies agree that the combination of all four DARQ technologies will bring extensive changes to their business."
Improving digital infrastructure is possible thanks to advancements in offshore connectivity. Satellite remains a stable, commonly-used source of internet, while new forms of connectivity are becoming increasingly popular. This changing landscape is emphasised by data stating that 84% of upstream and 76% of downstream executives concur that 5G will transform the industry by providing new opportunities to present products and services. By continuing to invest in various forms of offshore connectivity, companies will be better positioned to integrate new technologies for a digitally connected workforce.
Offshore connectivity options
Due to historical satellite advancements, companies can transfer large quantities of voice, text, and data anywhere in the world. However, steady offshore connectivity remains one of the biggest challenges for the industry, particularly in remote environments like on deep offshore oil rigs.
Looking specifically at satellites, there are 3 levels at which they orbit over the Earth: Low, Middle, and Geostationary Orbit. Geostationary, or GEO satellites, are traditionally popular and are cheaper, but since they orbit at such a high altitude, there is a higher communication latency. LEO satellite operators, on the other hand, allow for faster connectivity, but since they are more costly, access is limited to the companies who can afford it.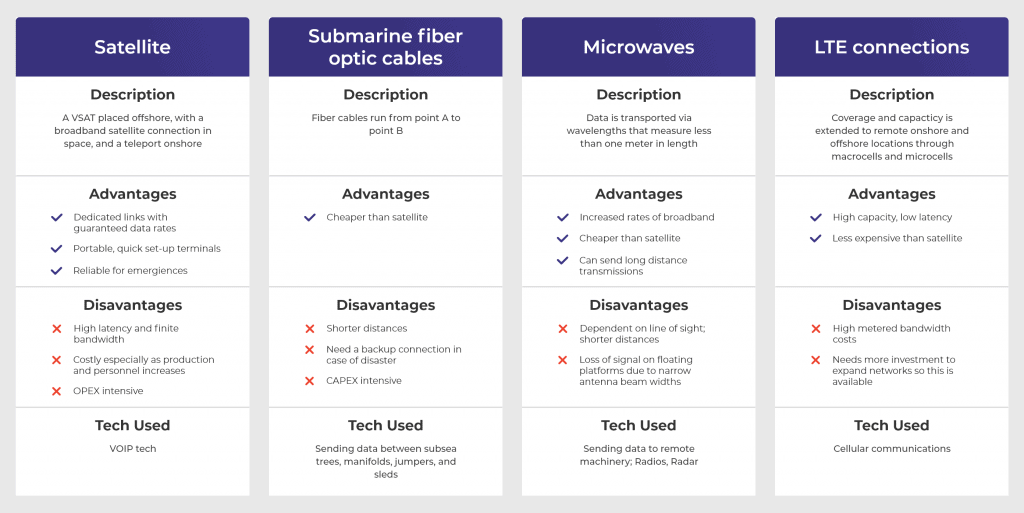 As seen in Figure 1, there are now several options for connectivity. Remote teams stay connected with very small aperture terminal (VSAT) satellites, submarine fiber-optic cables, microwaves, and long-term evolution (LTE) connectivity. When selecting a form of connectivity, companies must consider the differences in coverage capacity, price, bandwidth, and latency.
Finding the right form of connectivity is essential. A reliable connection is necessary for both machinery and the various communication devices used including, Voice over Internet Protocol (VOIP) technology, wearable technologies, and portable digital radios.
Connectivity for a modern, digital workforce
Today, companies may combine various types of connectivity to ensure consistent and quality connections throughout the day. The ability to seamlessly switch between connectivity types based on preferences and needs ensures maximum coverage and reduces latency. For example, providing crews with LTE connectivity has created a more positive work atmosphere for offshore workers as they can better communicate with family and access the internet during their downtime.
Connectivity is an essential component of digitally-comprehensive oilfields. Integrating digital tools benefits all workflows by increasing collaboration and data integration, optimising production and operational efficiency, and automating workflows. As a result, troubleshooting time and redundancy are dramatically reduced.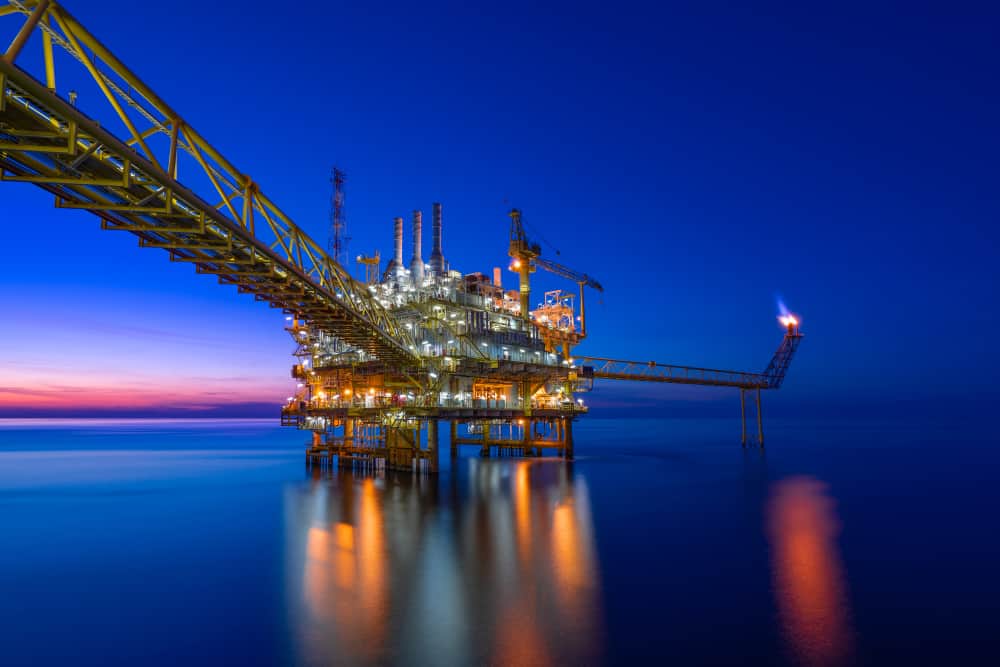 Integrating a hybrid work model post-Covid
These benefits also support a more mobile workforce — something that is increasingly important following the Covid-19 health crisis. In the energy and resources industry, 70% of CFOs worldwide reported that they are most likely to implement new safety measures when they start transitioning back to on-site work. This is further supported by reports that 55% of CFOs across industries intend to reconfigure their worksites to support physical distancing measures.
This would not be possible without enhanced offshore connectivity. Thanks to advancements in connectivity, implementing new, offshore safety measures is feasible by integrating remote collaboration technologies. By empowering field technicians and specialists to communicate efficiently from a distance, companies can reduce helicopter or surfer displacements. Restricting the number of displacements serves to reduce the loss of revenue from machine downtime, the wasted travel time, and the emotional costs from trip accidents. Moreover, essential safety considerations such as these are doubly efficient as they support the goal to restructure worksites in support of physical distancing.
Conclusion
As a result of new technological advancements, new forms of offshore connectivity are readily available. While satellite has historically played an important role in offshore communications, options like 5g LTE connections are seen as increasingly important as the industry becomes more digitalised. Companies will need to compare their various options based on individual worksite needs including proximity to shore and to other oil rigs, bandwidth requirements, etc. Investing in connectivity options will not only allow easier access to new digital tools, but will also facilitate the implementation of key strategies in the wake of Covid-19 such as enforcing new safety regulations.