Technology
GoToMeeting Alternatives: Choosing the Best Competitor (2021)
GoToMeeting is a web conferencing service dedicated to audio and video conferencing. It offers standard video call features that provide a simple user interface for both mobile and PC users. GoToMeeting alternatives, however, offer similar features for remote collaboration needs. ViiBE is a video assistance platform and ticketing system for remote technical support and after-sales services. It offers a unique set of in-call tools to enhance remote assistance for more complex situations.
Boost User Experience with no Download
In order to be more flexible for modern workers, GoToMeeting offers mobile apps for both iOS and Android devices. Its goal is to help people stay connected and productive even if they aren't in the office. However, in order to access GoToMeeting from a mobile device, the user has to download an app. This causes unnecessary friction for users. This is because the user may not have enough bandwidth or may face IT blockages when trying to download the app.
GoToMeeting alternatives, however, include options that do not require any download. ViiBE boasts quick and simple access for users. Since ViiBE is a web app, it requires no download to access the platform and start making calls. As a result, ViiBE ensures that immediate, real-time communication is always possible no matter where the users are. This is especially critical in remote assistance situations where users face serious technical difficulties or machine malfunctions that can be both costly and dangerous.
Remote Assistance Functionalities
GoToMeeting's interface includes tools such as custom backgrounds, screen sharing, HD video, and in-call screen share drawing tools. The laser and drawing tools are simple yet effective additions to GoToMeeting's platform. These tools are available during screen sharing mode to help presenters enhance their explanations to the other call participants.
These tools are similarly available on ViiBE's platform, however, they are not limited to being used during screen sharing mode. The annotation tools can be used on either a virtual whiteboard or on any documents or pictures that are shared in the collaboration zone. Participants can make annotations while simultaneously watching the live video feed which could be showing something completely different.
In addition, ViiBE's red laser can be used on the live video feeds of all video call participants. Simply by touching or moving one's cursor over the real-time feed of another participant, the red laser will appear and be visible to all other users. This allows ViiBE's clients to improve their remote guidance and assistance capabilities in a simple and logical manner.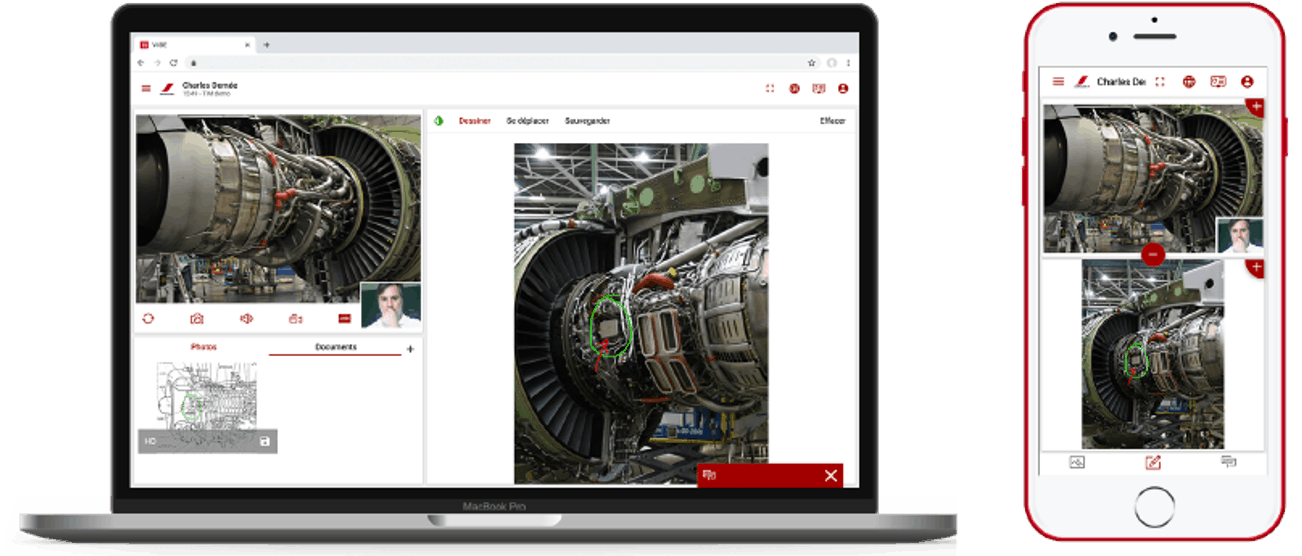 How Can These Field Service Platforms be Customised?
While GoToMeeting's platform offers more tools than certain competitors, there are still no options for customers to customise the platform. Customisation options are useful for businesses who want their remote collaboration platform to be smoothly integrated into their internal systems. Platforms with white labelling options also add another professional dimension for corporate clients.
As a result, there are several GoToMeeting alternatives that exist which allow users to transform their field service platforms for complete ownership. For instance, ViiBE allows its users to white-label their company-specific ViiBE domains. Specifically, this means that organisations can alter any images, colours, and logos on their ViiBE platforms to align with their needs.
ViiBE also permits its clients to personalise their hierarchy structures by assigning specific roles with different functionalities to each user. For example, a call center agent might only be able to see his or her personal KPIs and feedback, while the call center manager might have access to the statistics for the entire team. This allows companies to assign oversight permissions to team leads or administrators. This customisation option is useful for ensuring the smooth running of business operations.
Overview of ViiBE vs GoToMeeting
Both ViiBE and GoToMeeting are popular solutions for remote collaboration needs. These video call platforms offer several advantages over their competitors. GoToMeeting promises secure, clear connections that will enhance team productivity. Meanwhile, GoToMeeting alternative, ViiBE guarantees that its visual assistance platform will help customers improve FCR and NPS rates while reducing the need for tech dispatch.