Technology
Google Hangouts Alternatives: Choosing the Best Video Call Solution (2021)
Google Hangouts is a video call and messaging app. It has standard video call functionalities. As part of the Google Suite, it is integrated into Google calendars so meeting links are seamlessly integrated into users' schedules. However, several Google Hangouts alternatives offer more complex video assistance functions. ViiBE's unique tools and features, in particular, offer the ideal support needed for users to provide effective remote assistance.
Overview of Google Hangouts vs ViiBE
Both Google Hangouts and ViiBE are useful video conferencing tools for communicating with remote team members, partners, and clients. Google Hangouts is commonly used among Gmail users since it is automatically integrated into Google's application suite. While this feature is convenient, the platform does not include many in-call features beyond the basics. This can be a problem for more complex collaborations. Meanwhile, Hangouts alternatives offer a wide range of tools. ViiBE's collaboration tools enhance the remote guidance, diagnosis, and resolution of problems.
Basic vs Advanced In-Call Features
Hangouts offers minimal features for users, so there isn't much they can do beyond talking to each other. Once inside a video call, participants can flip their cameras, mute themselves, turn off their cameras, and invite others to join the call, but that's it.
ViiBE, on the other hand, is specifically designed to offer in-call functionalities that facilitate remote collaboration. The tools are particularly useful for solving complex, or technical problems. Its tools include the ability to take screenshots and then collaborate with the other users by making annotations on the picture. The annotated pictures or documents can then be saved locally for future use. Finally, this Google Hangouts alternative includes a red laser tool. Users can project the laser on the live video stream of the other participants to guide them through resolving complex issues.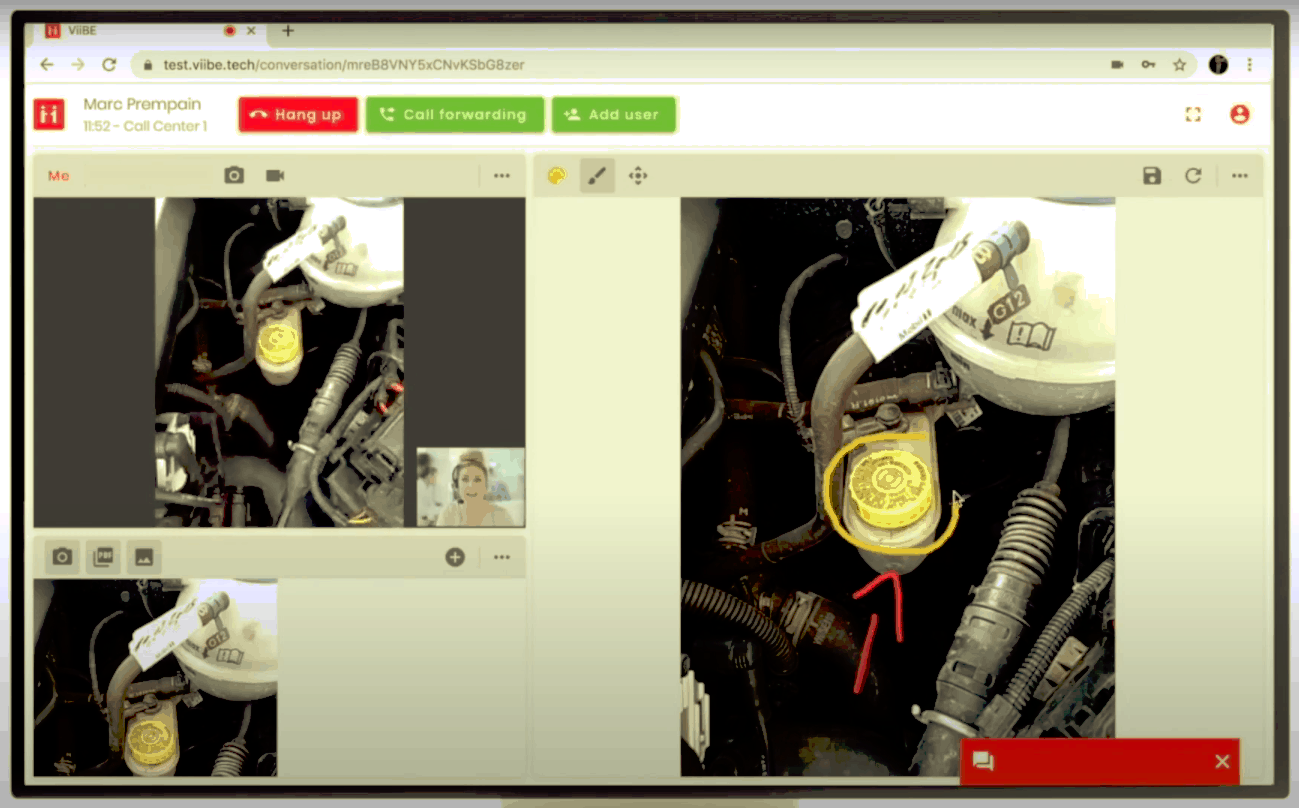 How Can These Video Call Solutions be Customised?
With the simple, bare-bones layout of Google Hangouts, there are no options for customisation. Call participants have the limited functions available but can't use Hangouts for any complex problem-solving. In a business context, companies may need a platform that can be moulded or customised for their specific needs.
As a result, there are several Google Hangouts alternatives that allow users to fashion their field service software for complete ownership. For example, ViiBE allows its customers to white-label their private ViiBE domains. Concretely, this means that companies can change any images, colours, and logos on the platform to align with their company needs.
Additionally, ViiBE allows clients to customise their hierarchy structure by assigning different levels of roles to their users. Therefore, a call center agent, for example, can only see his or her KPIs and feedback, while the call center manager can see the stats for the entire team. This lets companies provide team leads or administrators with oversight capabilities that are necessary for the smooth running of business operations.
Google Hangouts Alternatives and Knowledge Management
Providing opportunities for learning and knowledge management is crucial for companies. This is because learning creates a more experienced workforce. Therefore, employees are more knowledgeable about the industry's best practices. This is key to improving operational efficiency and reducing errors. With Google Hangouts, customers can buy the premium version if they want to have storage for keeping records of calls. Even buying this premium version, users only have the option of storing video recordings. That doesn't mean that the system is configured for users to be able to easily lookup and rewatch videos according to the problem they are encountering.
ViiBE, on the other hand, is fully equipped to promote knowledge sharing. Past ViiBE interactions are stored in tickets. These tickets include video recordings, documents, screenshots, call history, and post-call feedback. Experts can then reference these past interactions to see how similar problems were previously solved. They can search for tickets with call center names, expertises, usernames, machine names, or NPS to narrow their search. As a result, ViiBE's ticketing and knowledge management system improves learning and makes maintenance more efficient.
Which Software is Best for Your Needs?
If you don't need many call participants, a super clear video, or fancy features, then Hangouts may be right for you. However, if you have more advanced needs, want to improve customer service, or are looking to customise the platform, ViiBE is a better system for you. ViiBE's in-call functionalities, white-labelling possibilities, and ticketing platform help clients enhance their collaborations and solve complex problems remotely.